Contaminant storage & handling
If in doubt – Stop and Shout! Take the time to plan where materials are stored. Have the right equipment and procedures in place to deal with any spills as soon as they happen.
Good storage practices include:
Have a spill kit on site and train your staff how to use it.
Storing liquids within secondary containment
Storing substances away from stormwater drains and waterways
Storing substances on an impermeable surface (e.g. concrete)
Storing substances under cover
Securing substances against vandalism/theft
Storing substances away from high traffic areas
Make sure all storage containers are labelled.
Check regularly and before and after any rain.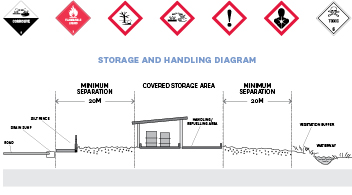 Click image to enlarge